Slide On The Terrace - A Love From Outer Space with Andrew Weatherall & Sean Johnston tickets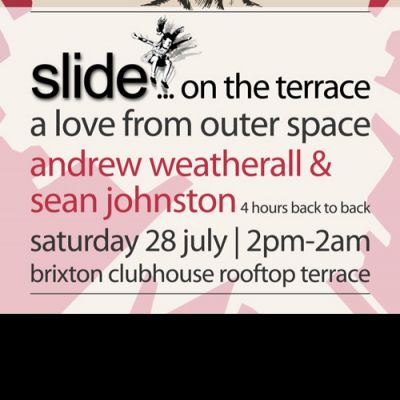 Brixton Club House, Brixton Sat 28th July 2012
After being regular visitors to Andrew and Sean's 'A Love From Outer Space' events at The Drop in Stoke Newington, Slide present ALFOS on the terrace
Date: Saturday 28th July 2012
Venue: Brixton Club House »
Location: London »
Reviews of this event
Be the first to leave your review of this event »
Event photos added by members
Be the first to add your photos of this event »
Lineup and Details for
Slide On The Terrace - A Love From Outer Space with Andrew Weatherall & Sean Johnston

on Sat 28th July 2012

After being regular visitors to Andrew and Sean's 'A Love From Outer Space' events at The Drop in Stoke Newington, Slide are extremely happy to present ALFOS on the terrace on Saturday 28 July.

As mentioned, ALFOS has been running once a month Thursdays at The Drop but they have decided take it out & about more recently, and we are delighted that they have chosen to join us on the terrace, we think the space is a great fit.

The manifesto of their night is to never knowingly exceed 122bpm. Andrew describes the night as an oasis of slowness in a world of increasing velocity.

Weatherall played a big part in moulding the UK's acid house scene in the late 1980s. He also produced one of the most pivotal albums of our generation, Primal Scream's "Screamadelica" and over the year's turned his skills to remix some of the most seminal artists around, including Grinderman, My Bloody Valentine, Bjork and Happy Mondays. His Two Lone Swordsmen and Sabres of Paradise monikers were both released on the iconic UK label Warp Records and remain hugely respected to this day.

Support comes from Wax:On residents and Slide regulars the Eskimo Twins plus residents.
Music Genres:
Disco, House, Techno
Please note: The event information above has been added by the organiser. Whilst we try to ensure all details are up-to-date we do not make any warranty or representation as to the accuracy or completeness of the information shown.
Venue Information
467 Road,
Brixton,
SW9 8HH
Tel: 02071833670
Discuss Slide On The Terrace - A Love From Outer Space with Andrew Weatherall & Sean Johnston