LDMS Presents... Oliver $ tickets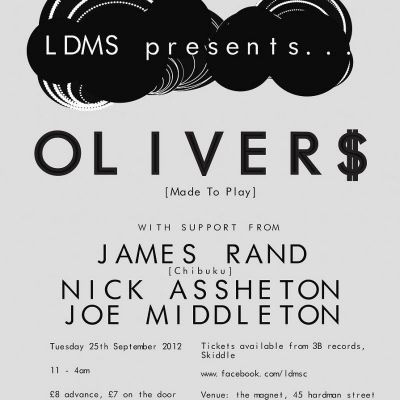 The Magnet, Liverpool Tue 25th September 2012
LDMS returns this September showcasing their new club night 'Presents', along side their regular bi-monthly event.
Date: Tuesday 25th September 2012
Venue: The Magnet »
Location: Liverpool »
Reviews of this event
Be the first to leave your review of this event »
Event photos added by members
Be the first to add your photos of this event »
Lineup and Details for
LDMS Presents... Oliver $

on Tue 25th September 2012

Liverpool Dance Music Society returns this September showcasing their new club night "LDMS Presents", along side their regular bi-monthly event at The Magnet.

The first event brings the massive Berlin house producer Oliver $ to Liverpool, with support from local house DJ, James Rand and the LDMS residents.

The past 3 years have seen Oliver $'s name gradually build to a recognizable staple in house music. This Berlin born and based producer has gained acknowledgment through a series of solid releases on labels such as Made To Play, Grand Petrol and Front Room Recordings. Remix credits can be found amongst the most famed independents; including Greco Roman, Rekids and Exploited as well as majors: Polydor and Ministry of Sound.

He first began turning heads in 2009 through his releases Whatcha Gonna Do and You Got It both on Made To Play. An artist EP, also on Made To Play named I Hope, later followed this. He was fully welcomed into the family when asked to mix the Made To Play compilation, which received a welcome response from press and clubbers alike. Another prominent addition to his rise has been his bi-monthly residency at the famous Panorama Bar in Berlin, representing Made To Play for their label showcase. Demonstrating his skills not only lie in production but similarly in Live and DJ sets.
2011 has without doubt been a turning point for Oliver$, his remix of the top ten track from Aloe Blacc I need a dollar, gained respectable coverage amongst the online community.

This was quickly followed by his number 1 Beatport track Doing Ya Thang, released on Play It Down; Made To Plays sister label. Doing Ya Thang remained at the top of the charts for an astounding 5 weeks, and has continued to sit in the top ten since. The track has been played by producers across the board and has catapulted Oliver$ into a new league. It is clear there are exciting times ahead for this prominent Berlin house producer, who is gaining recognition across the world as his unique style of House continues to grow in popularity.
Music Genres:
House, Tech House, Techno
Please note: The event information above has been added by the organiser. Whilst we try to ensure all details are up-to-date we do not make any warranty or representation as to the accuracy or completeness of the information shown.
Venue Information
45 hardman street,
Liverpool,
L1 9AS
Tel: 01517096969
Discuss LDMS Presents... Oliver $