The Florrie in Liverpool Events and tickets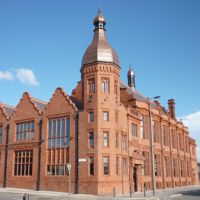 The Florrie in Liverpool events
No future events found at The Florrie in Liverpool
Do you promote an event at The Florrie that's not listed? Use our free Promotion Centre to add/edit your events
The Florrie venue information
The Florrie is a beautifully restored Grade II listed Victorian building. It is uniquely distinguished by intricate terracotta brickwork and architectural merit. The Florrie was built in 1889 by Bernard Hall a West Indies merchant, Alderman and former Mayor of Liverpool. He built the Florence Institute in memory of his daughter Florence who tragically died at the age of 22.
The Florrie was originally built as a boys club to provide recreational activities. Through the dedication of the Florence Institute Trust the Florrie will once again be the social heart of south Liverpool, offering a diverse event programme in the arts and leisure activities.
Steeped in social and architectural history The Florrie is easily accessible from the City centre. Boasting a heritage resource centre and library visitors can explore the rich local history of the area.
The Florrie is an exceptional visitor attraction that is utilising its heritage to improve social development through education and recreation.

The Florrie has not been reviewed yet. See Reviews above to leave your own!
Want to see more venues like this?
View more members who like The Florrie , plus recomendations for similar venues: The Florrie favourites page
Hotels in Liverpool
Use our hotel search to find hotels in Liverpool . We also show live pricing and availability, plus you can book online - at no extra charge!
Restaurants in Liverpool
Why not make a night of it and have a meal before you go out? We've got the lowdown on all the best resturants - book a table online for free!
View Restaurants in Liverpool »
Nightclubs in Liverpool
Looking for some alternatives? Our complete guide to clubs in Liverpool will show all nightclub events for you to take your pick!
View Nightclubs in Liverpool »
Bars in Liverpool
Looking for some pre club drinks? Our complete guide to bars in Liverpool will show you all of the local bars and pubs!