Juicy - the return! tickets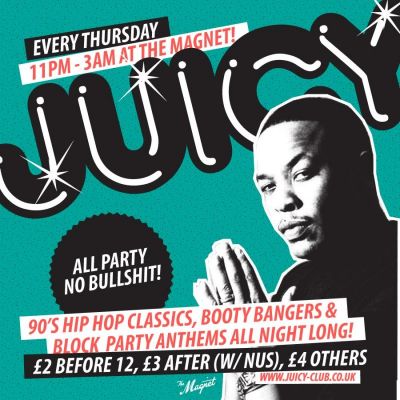 Magnet, Liverpool Thu 13th September 2012
Liverpool's best hip hop, R&B and bashment party back at the Magnet every Thursday. Cheap entry and cheap drinks all night...
Date: Thursday 13th September 2012
Venue: Magnet »
Location: Liverpool »
Reviews of this event
Be the first to leave your review of this event »
Event photos added by members
Be the first to add your photos of this event »
Lineup and Details for
Juicy - the return!

on Thu 13th September 2012

We're back... after a summer spent playing with the likes of Dizzee Rascal and De La Soul, from Parklife festival to Fabric, we return to the beloved Magnet.

Every Thursday we'll be keeping it 50 shades of cray with the best in party hip hop, classic R&B, bashment and disco bangers. Expect good times and hood rhymes from:

Dr Dre, Biggie, Michael Jackson, Snoop Dogg, DMX, Redman, De La Soul, Beastie Boys, Outkast, Kanye West, Dizzee Rascal, Jay-Z, Fugees, Prince, Missy Elliott, Warren G, Roots Manuva, Ludacris, R Kelly, Lil Kim, Pharaoh Monch, MOP, Justin Timberlake, Wu Tang, Beyonce, Jurrassic 5, Arrested Development, Nas, Ol' Dirty Bastard, Cameo, MIA, Run DMC, N.E.R.D, Brandy, Monica, Cam'ron and plenty more: all party no bullshit...

£2 before midnight, £3 after with NUS (£4 without)

We're also doing £2 tickets every week, beat the queue and guarantee entry. No need to print anything out either, just bring the card you paid with:

Cheap drinks all night in both bars: £1.50 shots / £2 beers / £2.50 jagerbombs / £3 house double and mixer

"Like" the Juicy Liverpool page for photos and updates: http://www.facebook.com/pages/Juicy-Liverpool/350867684932555

Follow us on Twitter: https://twitter.com/JuicyClub
Music Genres:
Dancehall, Hip Hop, RnB
Please note: The event information above has been added by the organiser. Whilst we try to ensure all details are up-to-date we do not make any warranty or representation as to the accuracy or completeness of the information shown.
Venue Information
Discuss Juicy - the return!