Threshold Festival of Music & Arts 2014 tickets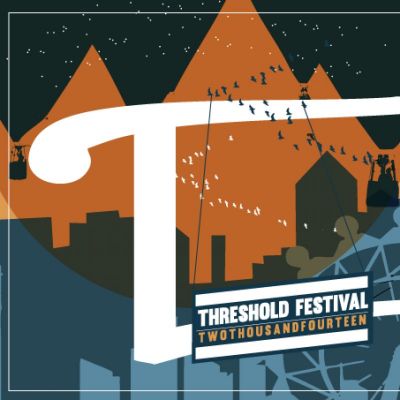 Liverpool Baltic Triangle, Liverpool Fri 28th March 2014
Threshold Festival of Music & Arts, Liverpool's critically acclaimed grass-roots event returns this coming Spring for it's 4th year in the Baltic Triangle
Buy tickets for this event:
Threshold Festival of Music & Arts 2014 details
Lineup and Details for
Threshold Festival of Music & Arts 2014

on Fri 28th March 2014

For the most up-to-date information about this event, please go here: Threshold Festival Guide

We're Back, Liverpool's critically acclaimed grass-roots multi-arts festival returns this coming Spring for it's 4th year in the Baltic Triangle.

On the line-up so far:

DUB MAFIA The Destroyers

Gideon Conn , Broken Men, The Fire Beneath The Sea

ETCHES The Wild Eyes The Mono LPs Natalie McCool

Alpha Male Tea Party
Abi Wade
Adronite
Alex Hulme
Arc Light
BeLoey
Bolshy
Book Thieves
China Shop Bull
Clockwork Radio
Detuned Radio
Dj Rasp
Dominic Dunn
Ed Poole
Fidel Afro
Forthaven
Henry Pulp
Indigo Sky
Jamie Broad
Joe Symes & the Loving Kind
John McGrath
Kalandra
Kusanagi
Paul Straws
Robert Vincent
Science of The Lamps
She Drew The Gun
Sheepy
Silent Cities
Speed Pets
Stems
Triphazard
Tyler Mensah
Waking Aida
We The Undersigned

'As a platform to scout the latest talent, and a fantastic opportunity for Liverpool's best to shine. Threshold's worth has never been clearer.' - Bido Lito, April 2013

'This year's qualified success should certainly ensure the return of Threshold in 2014 and the continued growth of the artistic community that surrounds it.' - Peter Guy's Getintothis, March 2013

Opening times

Friday 19.00-00.00

Saturday 12.00-00.00

Sunday 12.00-23.00
Music Genres:
Electronic, Folk, Hip Hop, Metal, Punk, Rap, Rock
Entry Prices
Minimum age: 18
Entry price (public): Advance Weekend £25/£20nus
Doors open: 7:00pm til 12:00am
Last entry: 12:00am
Date: 28th March 2014
Find more events on Friday 28th March 2014 in Liverpool
Click here to purchase advance tickets now from Skiddle
Please note: The event information above has been added by the organiser. Whilst we try to ensure all details are up-to-date we do not make any warranty or representation as to the accuracy or completeness of the information shown.
Threshold Festival of Music & Arts 2014 News
view all
Venue Information
Discuss Threshold Festival of Music & Arts 2014