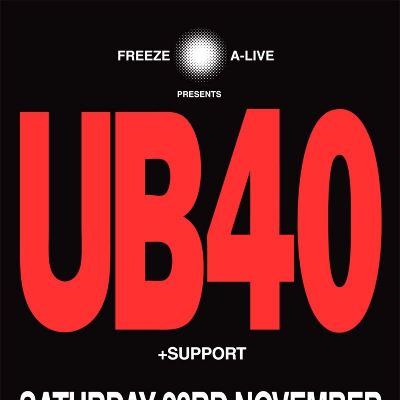 Liverpool Anglican Cathedral, Liverpool Sat 23rd November 2013
Freeze A-live, the live project for Freeze Liverpool, will be selling tickets for their show at Liverpool Cathedral with the one and only UB40.
This event has now passed
Reviews of this event
Click here to view all reviews or add your own »
Lineup and Details for
Freeze A-Live presents UB40

on Sat 23rd November 2013
Standing Only! No seating available.

The last seven years has seen Freeze events transform the focus of what clubbing can be about. Moving the traditional place to party from clubs to disused mine tunnels, the nation's biggest Cathedral and nineteenth century music halls, they've reinvigorated clubland. And now Freeze A-Live, a new initiative set up by the masterminds behind those events, aims to do the same with live music. This winter sees them start that surge by returning to Liverpool Cathedral to host the legendary band UB40

Infamously named after the dole form the group's members signed on, the group were formed in the late seventies in Birmingham where their mixture of reggae, ska and soul saw them develop a fervent local following. Upon hearing the band, Pretenders lead singer Chrissie Hynde got them to open up for them, setting the band's rise to prominence in full motion.

Debut album 'Signing Off' (another reference to their unemployed past) reached number two in the album charts, becoming a signifier of the times. A political record that lashed out at Thatcher's Britain, the rise of the National Front and the harrowing grip of unemployment the country as in, it spawned the double a-side single 'King/Food for thought', the first ever to make it into the top ten without the backing of a major label (the single and album was released completely independently). The album was a wondrous distillation of British reggae that for many remains one of the true classics of the genre.

After this point UB40's sound became more polished and they became international reggae stars, patenting a style which saw them re-imagining other people's songs in their unique style. Among their legendary covers are Neil Diamond's 'Red, Red wine', Cher and Sonny's 'I got you babe' (which saw them dueting with Hynde), and Elvis Presley's '(I can't help) falling in love with you', records which would top the charts across the globe.

The group remain an irresistible live force, the professionalism of over thirty years of performing combining with a very real zest for music that has never dimmed. Group member Earl Falconer even retains a hand in the dub focused music of today's youth as well, running legendary dubstep imprint Circus Records alongside Flux Pavilion and Doctor P. Saturday 23rd November will see Freeze A-Live host the band in the stunning setting of Liverpool Cathedral, bringing their incendiary reggae and pop fusion to one of the most beautiful backdrops the UK can muster.

Sat 23rd November

UB40

plus Gabriella Cilmi as support

Liverpool Anglican Cathedral

Tickets £32.50
Music Genres:
Pop/Commercial, Reggae, Ska, Soul

Please note: The event information above has been added by the organiser. Whilst we try to ensure all details are up-to-date we do not make any warranty or representation as to the accuracy or completeness of the information shown.
Discuss Freeze A-Live presents UB40