ECHO Arena tickets & Events (Liverpool)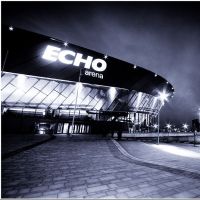 ECHO Arena in Liverpool events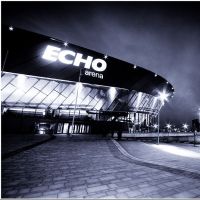 Do you promote an event at ECHO Arena that's not listed? Use our free Promotion Centre to add/edit your events
ECHO Arena venue information
The Echo Arena opened in January 08 and holds a 10,600 person capacity. The venue is situated in the heart of Liverpools city centre along the world-famous waterfront on the east bank of the river Mersey.

The Echo arena is visitor friendly with 22 hospitality boxes, food and drink concessions, 1600 car park spaces, drop off point, and bike racks.

Previous events which have been held at the Echo Arena are MTV Europe Music Awards, BBC Sports Peronality of the Year, Cirque du Soleil and David Cup Tennis. Elton John, Bob Dylan and Beyonce have also done performances for their concert tours here.

Address: Arena and Convention Centre Liverpool, Monarchs Quay, Liverpool, L3 4FP
Venue short url: http://www.skiddle.com/venues/9623/
Music Policy: Live music and shows
Ambiance: Lively music venue
Clientele: children students and adults.
Drinks Served: Lagers, alcopops, spirits and wines.
Disabled Facilities: The venue is fully accessible for wheelchair users with accessible toilets and lifts
Nearest Bus Stop: St Queens St. bus station
Phone: 0844 8000 400
Capacity: 10,600
Type of venue: Live
Dress Code: No dress code
Opening Hours: Doors for gigs open at 6.30pm and close at 11.00pm (This will vary depending upon the event)
Food Served: None
Parking Details: On-site multi-storey car park
Nearest Train Station: Lime Street
Want to see more venues like this?
View more members who like ECHO Arena, plus recomendations for similar venues: ECHO Arena favourites page
Hotels near ECHO Arena
Use our hotel search to find hotels within walking distance of ECHO Arena. We also show live pricing and availability, plus you can book online - at no extra charge!
Restaurants near ECHO Arena
Why not make a night of it and have a meal before you go out? We've got the lowdown on all the best resturants - book a table online for free!
View Restaurants near ECHO Arena »
Nightclubs in Liverpool
Looking for some alternatives? Our complete guide to clubs in Liverpool will show all nightclub events for you to take your pick!
View Nightclubs in Liverpool »
Bars in Liverpool
Looking for some pre club drinks? Our complete guide to bars in Liverpool will show you all of the local bars and pubs!