HighRise tickets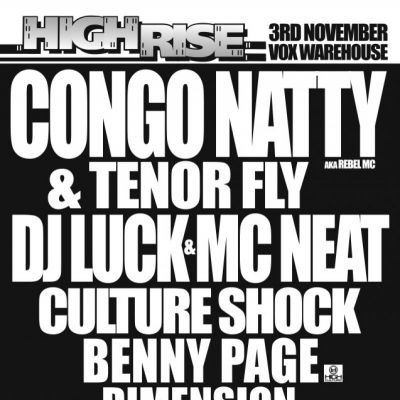 Vox Warehouse , Leeds Sat 3rd November 2012
HighRise is a new bass music & soundsystem culture night in Leeds. The HighRise launch party is on 3rd November & has some huge names in Drum & Bass.
Date: Saturday 3rd November 2012
Venue: Vox Warehouse »
Location: Leeds »
Reviews of this event
Be the first to leave your review of this event »
Event photos added by members
Be the first to add your photos of this event »
Lineup and Details for
HighRise

on Sat 3rd November 2012

HighRise are very proud to present the Leeds launch party

On the 3rd of November Highrise is making its big launch and to get things started we have some very big names for you. The line up is as follows

Congo Natty & Tenor Fly,

Dj Luck & MC Neat,

Culture Shock,

Benny Page, 2hr set

Dimension,

Serial Killaz,

Buggsy,

Hybrid Minds, 2hr set

Pluto,

Silas & Snare Surgeon

And Titan

Please note: The event information above has been added by the organiser. Whilst we try to ensure all details are up-to-date we do not make any warranty or representation as to the accuracy or completeness of the information shown.
Venue Information
Discuss HighRise