MOUSTACHE tickets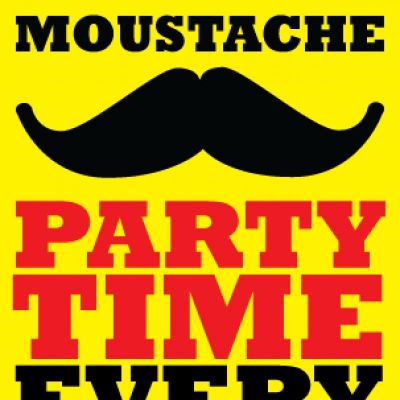 Faversham, Leeds Tue 1st May 2012
Every Tuesday night at The Faversham we play the best pop, rock and party anthems, we have the best drinks offers in town and plenty of Moustache related awesom
Date: Tuesday 1st May 2012
Venue: Faversham »
Location: Leeds »
Reviews of this event
Be the first to leave your review of this event »
Event photos added by members
Be the first to add your photos of this event »
Lineup and Details for
MOUSTACHE

on Tue 1st May 2012

MUSIC TO GET YOU PARTYING:
Playing loud to you through our Funktion One Sound System is our signature blend of Pop, Rock & Party Anthems!

The Smiths, Prince, Dr Dre, Human League, Lionel Ritchie, Limp Bizkit, Ke$ha, Usher, DFA1979, Outkast, Dead Prez, Beastie Boys, Magnetic Man, Stevie Wonder, Slayer, Duck Sauce, Beyonce, David Bowie, The Smiths, Jay-Z, Wu Tang Clan, James Brown, Two Door Cinema Club, Lady Gaga, Joy Division, The Strokes, Michael Jackson, MGMT, Le Tigre, Swedish House Mafia, The Cribs, NWA, Will Smith, Nirvana, Tinie Tempah, Backstreet Boys, Flo Rida, Rihanna, Jason Derulo, 3OH3, Notorious BIG, Joy Division, Chromeo, Weezer, Nero

DRINKS TO GET THE PARTY STARTED:
Kronenberg - £2
Ginger Joe - £2
Bulmers - £2
Vodka n mixer - £2
Jager shot - £2
Jagerbomb - £2
Havanna Rum & Ginger Beer - £2:50
Malibu & Cola - £2:50
Amaretto & Cola - £2:50
Red Stripe - £2:80
And a bunch more at the bar...

INFORMATION FOR YOUR PARTYING PLEASURE:
ENTRY:
Earlybird Ticket £2
Advanced Ticket / Badge £3
On The Door: £4

For tickets go to www.clubmoustache.com

Free stuff galore like badges, posters, T-Shirts, tote bags...

Doors are 10.30pm.

BIRTHDAY / SOCIETY / LARGE GROUP?
Email us at moustache@thefaversham.com and we will hook you up!
Music Genres:
Electro, Pop/Commercial, Rock
Please note: The event information above has been added by the organiser. Whilst we try to ensure all details are up-to-date we do not make any warranty or representation as to the accuracy or completeness of the information shown.
Venue Information
1-5, Springfield Mt,
Leeds,
LS2 9NG
Tel: 0113 243 3993
Discuss MOUSTACHE