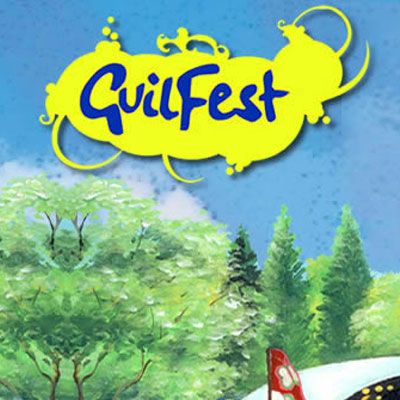 Stoke Park, Guildford. Fri 16th July 2010
Not too big, not too small, Guilfest remains an independently run festival with a very friendly atmosphere and some top bands!
Date:

Friday 16th July 2010

Venue:

Stoke Park in Guildford

Short URL:

http://www.skiddle.com/e/11340413/
This event has now passed
Reviews of this event
Click here to view all reviews or add your own »
Guilfest 2010

on Fri 16th July 2010

For the most up-to-date information about this event, please go here: Guilfest Festival Guide




GuilFest are excited to announce the latest additions to this years line up.

Headlining the weekend..

Legendary psychedelic rockers Hawkwind will be headlining the second stage on Saturday.

While electronic indie sensations Hadouken will take to the main stage on Friday.

Chase & Status (DJ Set) will be headlining the the Funky End Dance Tent on the Sunday with..

Kid Creole & The Coconuts gracing the main stage on Saturday.

They join acts already confirmed...

Orbital

The Human League

Status Quo

N-Dubz


Just Jack.

Seth Lakeman

Sub Focus (DJ SET)

Dreadzone

Pama Iinternational


Not too big, not too small, Guilfest remains an independently run festival with a very friendly atmosphere, held in the beautiful surroundings of Stoke Park, Guildford.

Visitors can expect a weekend of live musical entertainment coupled with comedy, children´s entertainment, street theatre, theatre tent, art/craft exhibitions, and caterers from around the world providing a variety of meals in a truly festive atmosphere.

With its 150 foot beer tent and calypso cocktail bar, an extensive KidZone and well maintained toilet trailers, Guilfest caters for young and old alike, to local visitors wanting to just come for the day, to families from further a field camping for a 3 day mini holiday! Guildford´s outdoor swimming Lido and Spectrum Leisure Centre on either side of the festival grounds offer easy breaks from the main festival site with a refreshing swim as well as a showering opportunity for the campers. All in all, Guilfest has something for everyone with its friendly relaxed vibe and eclectic mix of music and entertainment, so come along and see for yourself why we´ve been nominated as best family and medium sized festival for the past 3 years.

OPENING TIMES

Door open on all three festival days (16, 17, 18th) at 11.00. The camp site opens on Thursday (15th) at 11.00, with a valid weekend camping ticket.

AGE RESTRICTIONS
People aged 16 years and over at the time of the festival will have to buy an adult ticket.
Anyone under 16 years old must be accompanied by an adult aged 18 years or over.
Children aged 12-15 years old at the time of the festival will need to purchase a child's ticket.
Children aged 11 years or younger at the time of the festival are admitted free accompanied by an adult with a valid ticket.
Music Genres:
Acid House, Club Classics, Country/Americana, Cover Tracks/Tributes, Electronic, Funk, Funky House, House, Indie, Jazz, Latin, Metal, Pop/Commercial, Punk, Reggae, Retro House

Please note: The event information above has been added by the organiser. Whilst we try to ensure all details are up-to-date we do not make any warranty or representation as to the accuracy or completeness of the information shown.