Rise & Opal Rocks present a '4th July Independence Day Special'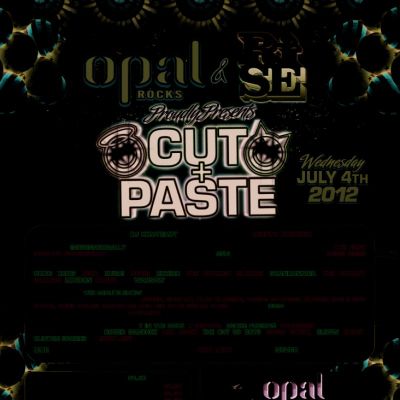 Opal Lounge, Edinburgh Wed 4th July 2012
The UK's hottest mash-up supergroup Cut + Paste present the hottest mash ups in a clubbing salute to Independence Day.
Date: Wednesday 4th July 2012
Venue: Opal Lounge »
Location: Edinburgh »
Reviews of this event
Be the first to leave your review of this event »
Event photos added by members
Be the first to add your photos of this event »
Lineup and Details for
Rise & Opal Rocks present a '4th July Independence Day Special'

on Wed 4th July 2012

DJs: Cut + Paste Featuring Johnny Frenetic & Kon-tempt (AV8 records)

In 1774 America declared independence from its colonial master, Great Britain. Since then they have done rather well for themselves, so in a tip of the hat we have decided to throw our own Independence Day party.

Starring will be the UKs hottest mash-up supergroup Cut + Paste who are signed to AV8 record NYC and are currently working with the label's biggest and brightest stars with some big records coming out later in the year.

Kon-tempt and Edinburghs own Johnny Frenetic have been building up huge reputations world wide for their production work, sublime mix CDs and of course their hugely energetic live shows which have already seen them hit Hong Kong this year with gigs all over the globe in the planning. A real Scottish success story, they have between them already played all over the world with parties in Ibiza, Dubai, Paris, Zurich, The Cayman island, Scandinavia, The Canary Islands, London, Corfu and Warsaw. They have dropped by some of Europe's biggest festivals and supported acts as diverse as Roger Sanchez, Hed Kandi, The Cut Up Boys, Snow Patrol, Elbow, G-Unit, Clinton Sparks, Jazzy Jeff and Dexter from the Avalanches.

Live, they use four decks and 2 lap-tops to smash together a genre-splitting mix of house, electro, club classics, dubstep, classic 80s & 90s loops, huge urban acapellas & big indie guitar riffs with their own original mash-ups and remixes taking centre stage which have had in excess of 4 million youtube views and tens of thousands of downloads worldwide.

Expect their 4th July show to focus on the finest music ever to come out of the USA.

Clubbing for people who know the difference.

www.johnnyfrenetic.com for more info / mixes

Please note: The event information above has been added by the organiser. Whilst we try to ensure all details are up-to-date we do not make any warranty or representation as to the accuracy or completeness of the information shown.
Venue Information
51a George Street,
Edinburgh,
EH2 2ht
Tel: 0131 226 2275
Discuss Rise & Opal Rocks present a '4th July Independence Day Special'