DreadnoughtRock in Bathgate Events and tickets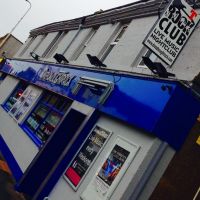 DreadnoughtRock in Bathgate events

JojoCoke live at Dreadnoughtrock
Friday 1st July

The awesome JoJoCoke return to rock the live session tonight at the Dread featuring a superb couple sets of Rock Covers


The Sensational Alex Harvey Experience
Friday 8th July

The Sensational Alex Harvey Experience is the UK's #1 Tribute to Alex Harvey and his Sensational Band covering their most recognisable songs and hits.


Do you promote an event at DreadnoughtRock that's not listed? Use our free Event Promotion Centre to add/edit your events
DreadnoughtRock venue information
Scotland's longest running Rock Nightclub has expanded to feature live music events every Friday and Saturday along side the legendary Rock disco in it's new home on two levels.

More details about the venue can be found at www.dreadnoughtrock.com
Name: DreadnoughtRock
Phone: 07723 827977
Capacity: 200 on Live Level - 200 on Nightclub Level
Type of venue: Live
Dress Code: Anything
Opening Hours: Friday 7pm - 3am : Saturday 7pm - 3am. Thursdays & Sundays - Special Events
Food Served: Just Crisps and Nuts
Nearest Bus Stop: Outside
Address: 14-16 King Street, Bathgate, EH48 1AX
Venue short url: http://www.skiddle.com/venues/32856/
Music Policy: Anything Rock. Live music is prodominately Rock.
Ambiance: Safe and Enjoyable
Clientele: Rock mainly but anyone welcome
Drinks Served: Hell Yeah
Parking Details: On street parking
Nearest Train Station: 4 mins walk away
Want to see more venues like this?
View more members who like DreadnoughtRock, plus recomendations for similar venues: DreadnoughtRock favourites page