Wrestle Midlands: New Horizons tickets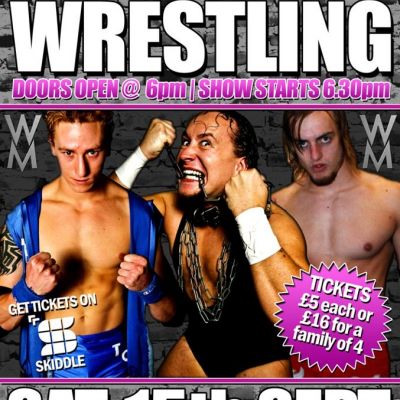 Netherton Arts Centre, Dudley Sat 15th September 2012
Wrestling returns to Netherton with some of the top stars round the country.
Date: Saturday 15th September 2012
Venue: Netherton Arts Centre »
Location: Dudley »
Reviews of this event
Be the first to leave your review of this event »
Event photos added by members
Be the first to add your photos of this event »
Lineup and Details for
Wrestle Midlands: New Horizons

on Sat 15th September 2012

Wrestle Midlands returns after after almost 4 years and we aim to bring the best in UK talent and top international stars to the Midlands.

Matches include

3 Way Dance

Zack 'Diamond' Gibson vs Ryan Smile vs 'White Lighting' Mark Andrews

Mad Dog Maxx vs Marc Morgan

Dylan Roberts vs The Bouncer

Gunns of Steele vs The Aristocrats

Keith Myatt's open challenge

Dean Allmark vs Wild Boar

Follow us on Twitter on @WrestleMidlands.

Please note: The event information above has been added by the organiser. Whilst we try to ensure all details are up-to-date we do not make any warranty or representation as to the accuracy or completeness of the information shown.
Venue Information
Northfield Road, Netherton,
Dudley,
DY2 9ER
Tel: 01384812846
Discuss Wrestle Midlands: New Horizons