A Bird In Your Ear, Cheshire tickets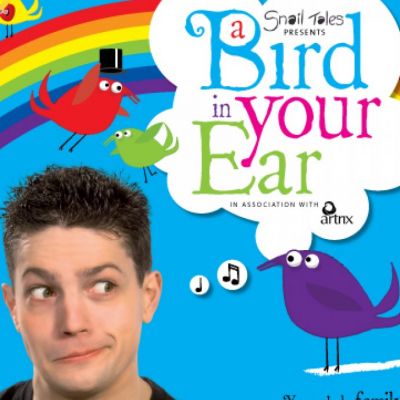 Queen's Park High School, Chester Wed 25th July 2012
Stories by children from UK primary schools have been adapted to include puppetry, song, and plenty of chances for the whole family to join in!
Date: Wednesday 25th July 2012
Venue: Queen's Park High School »
Location: Chester »
Reviews of this event
Be the first to leave your review of this event »
Event photos added by members
Be the first to add your photos of this event »
Lineup and Details for
A Bird In Your Ear, Cheshire

on Wed 25th July 2012

In collaboration with the Bromsgrove Artrix and the Arts Council of England, Snail Talesbrings you the chance to enjoy a collection of stories you won't find anywhere else because every crazy character and potty plot has been born from the endlessly imaginative minds of children from around the UK!

Genies in teapots and hat-munching eagles are just a few of the characters joining boys and girls like you on fantastical exploits and daring quests. Maybe you'll also get a chance to have your story put into the show right there and then!

Each story is brought to life with brand new puppets, original songs... and plenty of opportunities to jump on stage and join in! Families with children aged 3-11 years will collect a feast of fond memories at the hands of our magic-spinning storytellers.

Sometimes moral, sometimes delightfully absurd, but always colourful, curious, and fun... Journey through a creative world made for children, by the people who know them best children!
a new immersive experience!
In A Bird In Your Ear, you are in the show the moment you step through the theatre doors! Be prepared to find clues to stories above, behind and around you.
Not only that, but our storytellers will create a brand new fairy tale with you, live on stage, that they will then share with future audiences! You will help us to make and share the stories people will be telling hundreds of years from now, in the same way that tales like Cinderella have gone on and on making you a little piece of history...!
Please note: The event information above has been added by the organiser. Whilst we try to ensure all details are up-to-date we do not make any warranty or representation as to the accuracy or completeness of the information shown.
Venue Information
Queens Park Road,
Chester,
CH4 7AE
Tel: 01244981500
Discuss A Bird In Your Ear, Cheshire