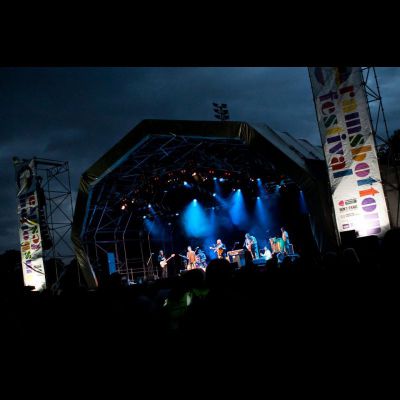 Ramsbottom Cricket Club, Ramsbottom. Sun 16th September 2012
The North Wests newest boutique festival returns on 14-16 September 2012, for those with musical tastes that range from folk-fantastic to up and coming bands...
This event has now passed
Reviews of this event
Click here to view all reviews or add your own »
Ramsbottom Festival

on Sun 16th September 2012

For the most up-to-date information about this event, please go here: Ramsbottom Festival Guide

The Ramsbottom Festival is back on Friday 14th September to Sunday 16th September 2012, for those with musical tastes that range from the folk-fantastic, to up and coming bands to indie legends, this is the family friendly music festival with a decidedly Lancashire accent.

This year Fridays festival offers an initial dose of indie resurgence with Inspiral Carpets accompanied by the Mancunian self-professed funkateers, The Janice Graham band - One of the best of the new breed of Manchester bands who could easily become our next big thing. Deffo! CLINT BOON XFM, Danny Mahon renown for his double A-side Beat Me Up/AK-47, Manchesters Piccadilly Records biggest selling vinylin 2010 alongside Black Lights, Air Cav and Louis Barabbas

Saturdays satisfying line up includes headliners and local lads I Am Kloot alongside Admiral Fallow; Miles Hunt and Erica Nockalls (The Wonder Stuff); Session A9; Roddy Woomble (Idlewild frontman -My Secret is my Silence, a stunning piece of work 5/5 The Sunday Times), and ones to watch, Harp and a Monkey and Mancunian folk singer, Jenny McCormick.

Sunday gets the popular vote with Aztec Camera frontman Roddy Frame along with Mercury Music Prize nominee, indie-rock styled folk singer Seth Lakeman, who is stopping off at Rammy on his 2012 festival tour; Thea Gilmore, whos current single London is on Radio 2s playlist; along with Manchester band Biederbeck, fronted by ex-Corrie star Rupert Hill current single is Out of the Blue.

Grass roots support for the festival was phenomenal in 2011, with a great local buzz and affection for this newcomer that feels just right for the town. This local support and the desire to bring live music to this great Lancashire town has driven organisers to stage a second festival in 2012, despite the economic environment.

The Ramsbottom Festival is a not-for-profit project managed by The Met, an arts charity and performance venue in Bury. As well as all the bands, Rammy has a fun-filled array of festival activities that make a great day out for all ages, from arts and music workshops and story telling to comedy, a funfair, a real ale tent, food and the impressively silent disco.

The Line Up:

MAIN STAGE


FRIDAY 14 SEPTEMBER
Inspiral Carpets
Janice Graham Band
Air Cav


SATURDAY 15 SEPTEMBER
I Am Kloot
Admiral Fallow
The Leisure Society
Miles Hunt and Erica Nockalls (The Wonder Stuff)
Session A9
Roddy Woomble
Liz Green
Magic Arm


SUNDAY 16 SEPTEMBER
Roddy Frame
Seth Lakeman
Thea Gilmore
Kan
Heidi Talbot
Rachel Sermanni
Biederbeck
In Fear of Olive
The Lazy Maybees


LADYBIRD STAGE


FRIDAY 14 SEPTEMBER
Louis Barabbas and the Bedlam Six
Danny Mahon
Black Lights


SATURDAY 15 SEPTEMBER
Darktown Jubilee
Jenny McCormick
Harp and a Monkey


SUNDAY 16 SEPTEMBER
Marc O'Reilly
John Herring
The Cheap Cuts
The Rocket
Hollywood or Bust


A&L STAGE


FRIDAY 14 SEPTEMBER
Point Blank
Boo Long and Pie
Roots Cafe


SATURDAY 15 SEPTEMBER
Molly Bloom
Uke Punk and The Forty Thieves
Celtic Brew
The Dean Casement Trio
Pocket Hercules
Elektrik


SUNDAY 16 SEPTEMBER
Man Made Sole
The Damien Heakin Band
Sunnyjim and the Size Nines
R D Everett
Helen Clements
Siobhan Campbell and Bridget Sutton


PLUS
Comedians Dom Woodward & Bill Woolland
Bop Local DJs: Phil Beckett (Beatwolf Radio) & Graham Hawley (Coronation St)
Funkademia DJs: Audiowhores (Defected Records), Mark Hogg (Slammin Boys) & Funkademia DJ Collective
Edwin Street Recording Studio Bands
A&L Music workshops and local stage


Plus real ale tent, great food, funfair and silent disco.

See photos from last year here

www.facebook.com/ramsbottomfestival

Watch a video to give you a taste of what you can expect
Music Genres:
60s, 70s, 80s, Acoustic, Alternative, Blues, Breaks, Cheesy Dance, Club Classics, Country/Americana, Cover Tracks/Tributes, Deep/Soulful House, Disco, Electronic, Folk, Funk, Funky House, Hip Hop, House, Indie

Please note: The event information above has been added by the organiser. Whilst we try to ensure all details are up-to-date we do not make any warranty or representation as to the accuracy or completeness of the information shown.