Boltons Big Blinder - Carbon Launch night with BB DJ tickets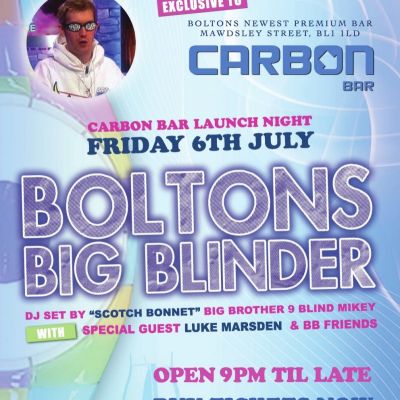 Carbon Bolton, Bolton Fri 6th July 2012
Carbon Bolton Launch Party with BB Blind Mikey DJ and Luke Marsden
Date: Friday 6th July 2012
Venue: Carbon Bolton »
Location: Bolton »
Reviews of this event
Be the first to leave your review of this event »
Event photos added by members
Be the first to add your photos of this event »
Lineup and Details for
Boltons Big Blinder - Carbon Launch night with BB DJ

on Fri 6th July 2012

Boltons Big Blinder!

DJ Mikey from BB9 and his sighted assistant Luke Marsden are helping launch Carbon. A night of modern and old school classics in an intimate underground atmosphere, promises to deliver a fantasic experience. There is always the possibility to meet and greet Mikey and Luke.

Tickets are available for only £4 (£8 on the door) and include a glass of bubbly on arrival. Due to the initimacy there are only about 100 tickets on sale - so will sell out fast. Tickets are available through skiddle or directly from the bar. There will be chances during the night to win VIP nights and other prizes.

Carbon is a new venue is located underneath St Andrews Court, in the centre of town (BL1 1LD) and offers premium beers & spirits. Please contact us for future events or if you need a venue for your party (info@carbonbars.co.uk)

For more details (including pictures of the venue) please check us out on fb at http://www.facebook.com/carbonbars.

To check out details of the night please click on the event details at https://www.facebook.com/events/361691127231726/

Carbon is also available to follow on twitter (@carbonbars).
Music Genres:
Old Skool, Pop/Commercial
Please note: The event information above has been added by the organiser. Whilst we try to ensure all details are up-to-date we do not make any warranty or representation as to the accuracy or completeness of the information shown.
Venue Information
18 St Andrews Court, Mawsdley Street,
Bolton,
BL1 1LD
Tel: 01204 776325
Discuss Boltons Big Blinder - Carbon Launch night with BB DJ