Blackpool Tower Ballroom in Blackpool Events and tickets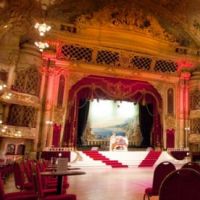 Blackpool Tower Ballroom in Blackpool events
No future events found at Blackpool Tower Ballroom in Blackpool
Do you promote an event at Blackpool Tower Ballroom that's not listed? Use our free Promotion Centre to add/edit your events
Blackpool Tower Ballroom venue information
Step into the sensationally stylish Blackpool Tower Ballroom and prepare to be lost in a world of elegant charm and refined beauty.

Dating back to 1894, The Blackpool Tower Ballroom is world famous for its unique dance floor and spectacular architecture and remains to this day a destination for dance fans from across the globe.

You can dance the day away to the sounds of the famous Wurlitzer organ amidst this stunning setting, or watch from the side lines as you enjoy a delicious afternoon tea.

Whether you want to glide around the dance floor, relax at your table or spectate from up on the balconies, The Blackpool Tower Ballroom is an experience you will never forget.

You'll be entranced by magic of The Ballroom and want to return time and time again, as so many of our regular guests already do.
Want to see more venues like this?
View more members who like Blackpool Tower Ballroom, plus recomendations for similar venues: Blackpool Tower Ballroom favourites page
Hotels in Blackpool
Use our hotel search to find hotels in Blackpool. We also show live pricing and availability, plus you can book online - at no extra charge!
Restaurants in Blackpool
Why not make a night of it and have a meal before you go out? We've got the lowdown on all the best resturants - book a table online for free!
View Restaurants in Blackpool »
Nightclubs in Blackpool
Looking for some alternatives? Our complete guide to clubs in Blackpool will show all nightclub events for you to take your pick!
View Nightclubs in Blackpool »
Bars in Blackpool
Looking for some pre club drinks? Our complete guide to bars in Blackpool will show you all of the local bars and pubs!