Crossroads Blues Club: SHADOW PLAY RORY + Open Mic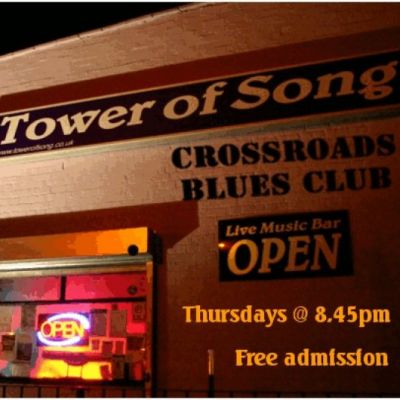 TOWER OF SONG LIVE MUSIC BAR, BIRMINGHAM Thu 12th July 2012
Come down to the Crossroads Blues Club at the Tower of Song Music Bar. Open Mic and featured guest. Listen or play! Every Thursday at 8.45pm.
Date: Thursday 12th July 2012
Venue: TOWER OF SONG LIVE MUSIC BAR »
Location: Birmingham »
Reviews of this event
Be the first to leave your review of this event »
Event photos added by members
Be the first to add your photos of this event »
Lineup and Details for
Crossroads Blues Club: SHADOW PLAY RORY + Open Mic

on Thu 12th July 2012

Shadow Play Rory is a genuine tribute band playing the music of the late, great Irish bluesman Rory Gallagher. The aim is to try to recapture the atmosphere and sound of Rory's great live gigs. Pete Gates explains: 'We have tried to recreate the mood and excitement of Rory's performances just the way it was, as much as possible, by getting the right sound using identical equipment and playing to original set lists'. The main focus of the band is to try and sound like Rory - not look alike, as you can see from the photo above. There is not a checked shirt in sight and wigs aren't an option!

Admission Free. Starts 8.45pm every Thursday.

Crossroads Blues Club ... at the Tower of Song: www.towerofsong.co.uk/blues

Please note: The event information above has been added by the organiser. Whilst we try to ensure all details are up-to-date we do not make any warranty or representation as to the accuracy or completeness of the information shown.
Venue Information
107 PERSHORE RD STH KINGS NORTON,
BIRMINGHAM,
B30 3JX
Tel: 0`1214861300
Discuss Crossroads Blues Club: SHADOW PLAY RORY + Open Mic