EVERYBODY LOVES presents DJ LUCK & MC NEAT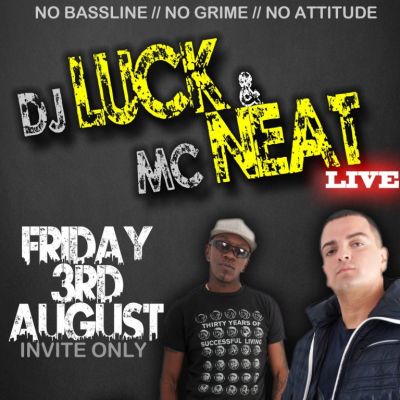 Rainbow Warehouse, Birmingham Fri 3rd August 2012
EBL presents MOBO award winning/chart topping UK Garage act DJ LUCK & MC NEAT!
Date: Friday 3rd August 2012
Venue: Rainbow Warehouse »
Location: Birmingham »
Reviews of this event
Be the first to leave your review of this event »
Event photos added by members
Be the first to add your photos of this event »
Lineup and Details for
EVERYBODY LOVES presents DJ LUCK & MC NEAT

on Fri 3rd August 2012

Welcome to EBL pres. chart topping/MOBO award winning - DJ LUCK & MC NEAT - LIVE!

Well this event needs no explanation, It doesn't get much bigger than the old skool legends LUCK & NEAT!

As always with EBL we do it bigger and better, experience the duo like never before performing all their hits LIVE aswell as a breath taking, floor shaking DJ set!

Expect the biggest and most extravagant event to date where we pull out all the stops - The very best entertainment, sounds system and lighting to give you an experience you will never forget!

This will sell out fast so get your tickets ASAP!

GARAGE WITHOUT THE GHETTO IS BACK BABY!!!

xxx


A complete venue transformation will be taking place for this event, we are shipping in the very best of visual entertainment alongside an uprated sound system that will blow you away.

As always we will have the amazing hands in the air EBL atmosphere and an attitude free crowd to party with all night long.

Expect some surprise twists on the night along side a fully covered and heated smoking terrace plus much, much more......

See you all on the the dance floor!

Much love,

EBL xxx


NO BASSLINE//NO GRIME//NO ATTITUDE - Just how it used to be :)



PLEASE REMEMBER THIS IS AN INVITE ONLY EVENT, msg us to apply for the guest list. This is the ONLY way to gain entry!



G.A.R.A.G.E

Some of you were too young to remember and some of us were lucky enough to be there when the explosion of uk garage hit the dance music scene.

The hedonistic days of Sunday club at the elephant and castle cub in London the sounds of tuff jam, dream team, Todd Edwards and dem 2 when the vibe was nice and full beautiful people all enjoying one vibe.

Well people of Birmingham we are bringing it back everybody loves garage is Birmingham's only exclusive invite only old school uk garage event, which we guarantee you will be able to relive the moments, which can now only be listened to on old mix tapes or cds.

We have managed to track down all of the original Birmingham garage djs who were kings of the scene in the late 90's to Y2K. so you get to experience the actual djs from way back and not a cheap imitation. So you know that they will have all of the big tunes from back in the day, the limited test presses and the tunes you cant get or wish you had

We have not just stopped there, why would we? we went down south to the home of garage, London and tracked down some of the scenes founders the godfathers of garage to bring to you the biggest uk garage night in the midlands.

Our event is invite only to ensure that you the party people can enjoy a trouble free environment, you can request an invite if you want to relive the vibe and there just to party and enjoy the music.





**GARAGE WITHOUT THE GHETTO**


Let us take you back to "Where it all started".....


Remember how LIVE vinyl mixing sounded?? We are bringing it back!!!! All the DJ's have been hand picked for their ability to mix on vinyl, extensive knowledge & experience with UK Garage.

DOWNLOAD our latest mix here - http://soundcloud.com/alexparkin/ebl-2012-relaunch-mix



Mainroom- Uplifting UK Garage and 2 Step

*** DJ LUCK & MC NEAT (live) ***

DJ Luck and MC Neat - two of the biggest names ever in the UK Garage scene, who have released 7 albums and had 3 top ten singles in the UK charts!

*** ALEX PARKIN ***

Alex is the head honcho and founder of Everybody Loves. He has lived and breathed Garage back from the late 90's, After a very successful year on the house scene Alex is coming back to his roots and setting the roof on fire at every event with his fast paced, cut up style of mixing.

*** DJ SPARKS ***

This old skool Garage veteran debuted at the 2011 launch and what an entrance he made!! After raising the roof in the Cellar our newest resident is back to do the business again! Also a genius in the studio, look out for his latest garage productions!

*** KANE ***

Birmingham and EBL legend, one half of "Cause'N'Effect' Kane's vinyl sets are renowned for shaking the room!!

*** DR LOVE ***

True old skool DJ who has risen up through the ranks with style and grace. His vast knowledge of the scene & music and got this guy ultimate respect and residencies all over the midlands. The Dr never fails to please....


The official Luck & Neat After Party

House/Bass/Jackin/Classics

TOM SHORTERZ

MARC SPENCE

MARTIN CRICH

3am til 6am - Rainbow Courtyard

+ More to be confirmed




Doors Open: 10pm till 3am
Dress Code: Smart Casual/No Sportswear/
Entry: Invitation Only (please msg us for guestlist)
Tickets: £10 Early Bird/£12 Standard/£17 VIP inc afterparty

Join the group for all the latest info & news - http://www.facebook.com/EverybodyLovesEBL
Music Genres:
Garage, Old Skool
Please note: The event information above has been added by the organiser. Whilst we try to ensure all details are up-to-date we do not make any warranty or representation as to the accuracy or completeness of the information shown.
Venue Information
Discuss EVERYBODY LOVES presents DJ LUCK & MC NEAT