Bonfire Night Guide 2015
Bonfire Night - or Guy Fawkes Night - is one of the UK's favourite festivities. Although officially on the 5th November, Bonfire Night events take place for a few days before and after the 5th November, commemorating a botched attempt to blow up the Houses of Parliament and kill the King!

As the traditional rhyme goes:

"Remember, remember the fifth of November, gunpowder, treason and plot. We know no reason why gunpowder treason should never, ever be forgot."

Traditionally, we've been lighting bonfires and setting off fireworks for the last 300 years, throwing wild Guy Fawkes Night parties as a demonstration of national pride and generally our love of a good Winter party!



Select your local guide to Bonfire Night 2015 below, or scroll down for a selection of events from across the UK
Or, select your nearest town/city from the dropdown below:
Select your city
You'll find plenty of tickets to loads of Bonfire Night events on Skiddle. Simply take a look at the city nearest to you and whether you're looking for bonfire and firework events or Guy Fawkes themed nights out, Skiddle will make sure your night goes off with a bang! Don't forget, you can also book Bonfire Night hotel stays or book a restaurant through Skiddle.

No matter what you choose to do to celebrate Bonfire Night, there are loads of Bonfire Night parties for you to choose from. Just take a look through Skiddle's Bonfire Night Guide below.
bonfire night events 2015
Here's a huge selection of Bonfire Night 2015 events to tickle your fancy, buy your tickets quick if you're going.
Our eTickets mean you don't need to rely on mr postman, you can order at anytime with confirmation sent instantly to your email inbox.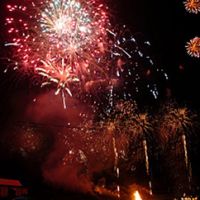 After Dark Firework Spectacular!
Thursday 5th November

Yorkshire's biggest firework spectacular! Each year on the 5th of November the event plays host to a whopping 18,000 spectators.




Showing events: 1-7 of 7 of 7
Your event not listed? Promote your event online
Last updated: 03:46
Treat yourself this Bonfire Night... 5* Luxury hotels from just £0.00 per room...