Scarlet Fantastic tickets + tour dates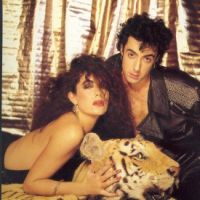 Find Scarlet Fantastic tour dates and buy tickets, plus listen to mixes and view videos!
Where is Scarlet Fantastic playing?
Scarlet Fantastic Biography
Official website: http://www.scarlet-fantastic.co.uk/
Scarlet Fantastic were a late 1980s pop duo consisting of Maggie De Monde and Rick P. Jones. The band had evolved from an earlier recording act called Swans Way. Scarlet Fantastic were to reach the UK Top 40 only once, when they released their October 1987 single "No Memory".
Do you promote/manage Scarlet Fantastic? Login to our free Promotion Centre to update these details.
Artist biography and images supplied by our good friends at last.fm. Check out the Scarlet Fantastic page on last.fm here.
Mixes powered by the awesome Soundcloud
All event data and news is © Skiddle Ltd