Paper Boats tickets + tour dates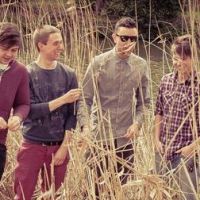 Find Paper Boats tour dates and buy tickets, plus listen to mixes and view videos!
Where is Paper Boats playing?
Paper Boats Biography
There are several artists with the name Paper Boats.



 1) Indie/Dream Pop band from Surrey UK, released a first track "Morning Image" from their upcoming EP.



 2) Paper Boats is the music project of Brent Curriden, former frontman and songwriter for Moirae, along with Jera Lewis and Gabe Peralez. Paper Boats is notorious for pillaging as well as plundering.



 3) Paper Boats was a band out of Salem, OR that was made up of the members Brette Irish, Matt Hall, Robert Harris, and Andrew Tennant. During their time as a band, they released a three-song EP including titles such as "Echternauch (part 1)", "Francis" and "Come On Girl", and played a lot of house shows where their pals sang along loudly to their quaint love song "Kittens". They were a band from Spring 2007 until late 2009, when they broke up and some members joined another existing act, Bottle Rocket.







User-contributed text is available under the Creative Commons By-SA License and may also be available under the GNU FDL.
Do you promote/manage Paper Boats? Login to our free Promotion Centre to update these details.
Paper Boats News
Paper Boats has been mentioned in our news coverage:

read more »

Maps Festival Returns to Manchester

19th Apr 2010 11:19pm

Now in its third year, MAPS Festival will take over Manchester's bohemian Northern Quarter for four fun-filled days and nights in May.
Artist biography and images supplied by our good friends at last.fm. Check out the Paper Boats page on last.fm here.
Mixes powered by the awesome Soundcloud
All event data and news is © Skiddle Ltd