DJ Yoda tickets, events and tour dates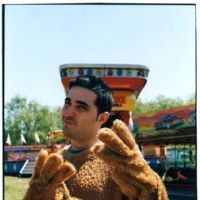 Find out where DJ Yoda is playing next, plus listen to mixes and view videos!
DJ Yoda Biography
Official website: http://www.djyoda.co.uk/
Between 1995 and 1998 he studied English and American Literature at the University of Warwick. During this period he began performing at Mojo, a popular Warwick Hip hop and Soul night until he graduated. After he left university he began releasing underground demo mix-tapes to small music shops. Through the popularity of these tapes, Antidote Records asked him to create an official mixtape, from which 'How to Cut & Paste Mix Tape Vol.1' was released.
Do you promote/manage DJ Yoda? Login to our free Promotion Centre to update these details.
DJ Yoda News
DJ Yoda has been mentioned in our news coverage:
DJ Yoda Image Gallery
DJ Yoda Videos
Artist biography and images supplied by our good friends at last.fm. Check out the DJ Yoda page on last.fm here.
Mixes powered by the awesome Soundcloud
All event data and news is © Skiddle Ltd