Death In Vegas tickets + tour dates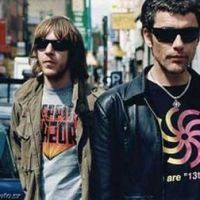 Find Death In Vegas tour dates and buy tickets, plus listen to mixes and view videos!
Where is Death In Vegas playing?
Death In Vegas Biography
Death in Vegas are a psychedelic rock and electronic band from the United Kingdom, currently comprising two permanent members: Richard Fearless and Tim Holmes. Influenced by a wide range of musical genres including psychedelic rock, electro, krautrock, dub and industrial, the band's sound is constantly in flux, moving between live acoustic and electronic sounds. The band was formed in 1994 by Fearless and Steve Helier and signed to Concrete Records under the name of Dead Elvis.
Do you promote/manage Death In Vegas? Login to our free Promotion Centre to update these details.
Artist biography and images supplied by our good friends at last.fm. Check out the Death In Vegas page on last.fm here.
Mixes powered by the awesome Soundcloud
All event data and news is © Skiddle Ltd