Bare Noize tickets, events and tour dates
Find out where Bare Noize is playing next, plus listen to mixes and view videos!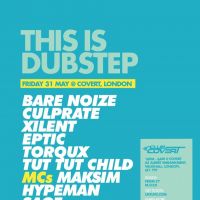 Bare Noize Biography
Official website: http://www.myspace.com/barenoize
Members:
James Dent, Daniel Brown & Ollie Pile Genre: Dubstep / Breakbeat / Drum & Bass Record label: Audio Freaks, Media Records (Big In Ibiza / Nukleuz), Z Audio, Gash Digital, Ministry of Sound, Dubstep Division, EIGHT:FX Current Location: UK General manager: JP Mckenzie @ Fat! Management Booking agent: TFA Bookings Press contact: saleem@tfabookings.com Chilled Intelligent Dub to Spine Crushing RoboStep
Do you promote/manage Bare Noize? Login to our free Promotion Centre to update these details.
Bare Noize News
Bare Noize has been mentioned in our news coverage:
Bare Noize Image Gallery
Bare Noize Videos
Artist biography and images supplied by our good friends at last.fm. Check out the Bare Noize page on last.fm here.
Mixes powered by the awesome Soundcloud
All event data and news is © Skiddle Ltd